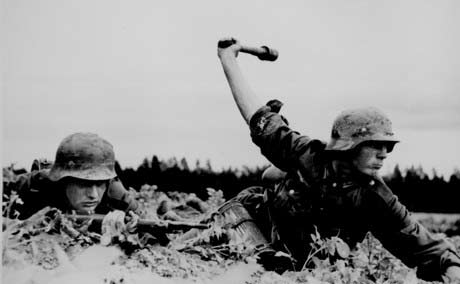 Ken Weiler has published a new book dealing with the Soviet contribution that insured the success of the Allied invasion at Normandy on June 6, 1944. Entitled Why Normandy Was Won: Operation Bagration and the War In the East 1941 – 1945 (Ostfront Publications, LLC Hanover, Pennsylvania, 458 pp, 2010, $24.95) Ken traces the origins of the war in Russia from the Russo-German Non-Aggression agreement of 1939, to the German invasion of Russia in the summer of 1941 leading up to the title topic, Operation Bagration, the largest military operation of World War II three weeks after the landings in Normandy. This little known aspect of the War in Europe is key to understanding the Allied victory over Nazi Germany, the Soviet contributions and sacrifices made by the Red Army in the five year war, and how and why the final borders were determined in the Spring of 1945.
As Ken discovered during his three decades of research and several years of writing, there was a large 'knowledge gap' in the American readership of the role of the Union of Soviet Socialist Republics in the war, especially in the under 35 year old age group. The immense losses it suffered battling the German Wehrmacht in the four years awaiting the arrival of the second front in France is still somewhat a specialist area of military history. Fifty years of Cold War estrangement, the lack of Russian language courses in the public schools, no American involvement in the Russian front and the politically biased writing published by the Soviets all contributed to this knowledge vacuum.
With the little that had been published in the U.S. and the dearth of public understanding of the war, the original manuscript was greatly expanded to become a primer of the war in the East. The final work now includes chapters on life in Russia leading up to the German invasion and companion chapters of life Nazi Germany to lay the ground work and to give the reader a feel for the climactic battle in Western Ukraine and Belorussia. Also included is an extensive series of maps, charts and tables to present the numerical data of men, tanks, trucks, artillery, aircraft and all the other metrical information essential to understanding the vast theater that was the war in Russia. Also included is over two dozen illustrations, a detailed three-level index, chronology, bibliography and an a appendices with original author created charts and graphs illustrating the key points of the theater.
Finally, one of the most important chapters of the book is the last chapter, an analysis of the battle, the war in Russia, its impact on the outcome of the War in Europe as well as how this theater changed so much of the landscape of post-war Europe.
The book was presented to the public for the first time at the World War II Weekend at the Eisenhower National Historic Site in Gettysburg, Pennsylvania in September where Ken was the key note speaker on the second day of the event. For additional information, and ordering information click here